Mother's Day Memories
5/14/2012
By Charlene Long
Lately, seeing the bright and wonderful sides of my children has been difficult.
Lately, I have noticed myself pulling away a little, in hopes to prevent snapping at them.
Yesterday, I enjoyed the smiles on their faces as they shared something special with me.
Yesterday, we all sat at the table and ate dinner and even played outside.
We spent time together and I almost made it through the day
without thinking about doctors and medical issues.
ALMOST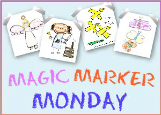 "It took me four years to paint like Raphael, but a lifetime to paint like a child."
~Pablo Picasso
Welcome to Magic Marker Monday!